This article describes Christmas vacation destination ideas in Colorado, Kansas, Missouri, Nebraska, North Dakota, Oklahoma, and South Dakota.
Vacation Spots for a Western-Style Christmas
During the holidays, the western states of Colorado, Kansas, Missouri, Nebraska, North Dakota, and South Dakota offer holiday activities that highlight their geographical features, such as winter sports. They also feature events based on their heritage, including Ullr festivals and decorating entrances to gold mines. Then, you can experience unique items from a wine bottle Christmas tree to a giant mistletoe ball. Choosing where to visit in the western states could be a hard choice.
Breckenridge, Colorado
Breckenridge features a Ullr Fest and a bonfire. The festival honors the Norse god of snow with people dressing in Viking outfits. If you are looking for unique activities, view the Holiday Dog Parade, join in the dog sledding, or run in the 5k Santa race. Remember to bring your Santa suit to participate in the race. For the less adventurous, enjoy a horse-drawn carriage ride. On New Year's Eve, you can view a torchlight parade of skiers and a fireworks display.
Cripple Creek, Colorado
In Cripple Creek, the Gold Camp Christmas Holiday Headframe Lighting features mine entrances decorated for the holidays. You can view a melodrama at Butte Theatre and Winter Wonderland at the Cripple Creek District Museum. Kids can enjoy the parade, a visit with Santa, s'mores, roasted marshmallows, cider, and hot chocolate.
Durango, Colorado
Durango offers a Polar Express train ride during a visit to the Durango Railroad Museum. You can view 1880s steam engines and train cars, lanterns, tools, paintings, and photographs.
You can also enjoy a ride in a horse-drawn sleigh and an arts and crafts festival.
For outdoor sports fans, you can enjoy the usual activities such as alpine skiing, cross-country skiing, snowboarding, ice skating, and snowmobiling. For the more adventurous, you can try ice climbing or watch skijoring. The Norwegian sport of skijoring translates to ski driving. It resembles waterskiing on snow. Participants are on skis and pulled around obstacles by a horse while grabbing rings from a baton. Categories include novice, sport, open, and fat boy and are determined by the participants' time maneuvering gates and jumps. Slower riders, skiers, and horses participate in the fat boy categories.
Leadville, Colorado
For a unique experience, Leadville offers dog sledding and tubing along with alpine skiing. Your family can also enjoy the Parade of Lights and a visit with Santa and Mrs. Claus.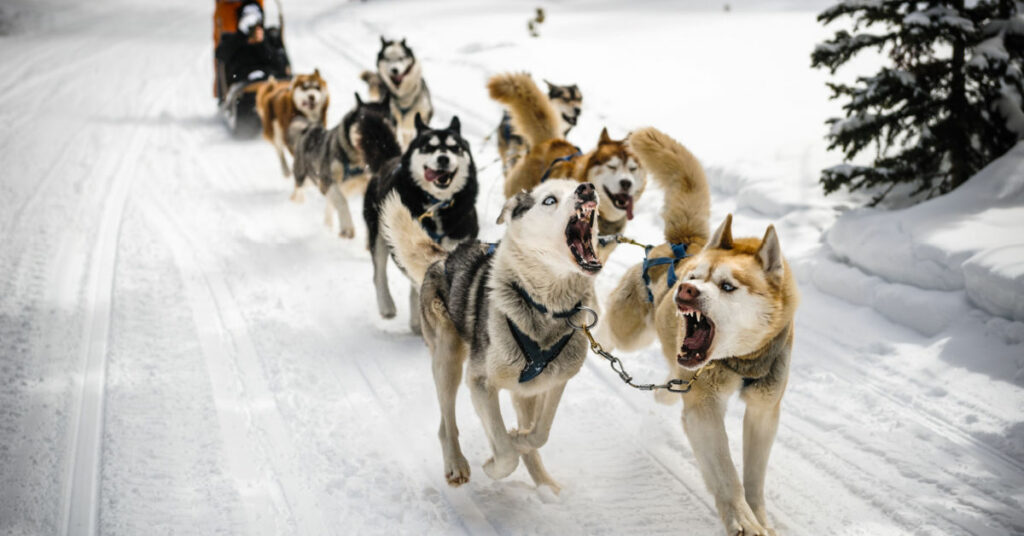 Ouray, Colorado
Ouray combines an old western mining town and Victorian buildings. Known as the Switzerland of America, Ouray offers a seven-week Winterfest with different activities each week, including ice climbing. You can also enjoy the mineral springs.
Steamboat Springs, Colorado
Steamboat Springs presents the Steamboat Holiday Festival featuring Santa riding a horse down the ski slopes. Your family can enjoy the hot springs, hot air balloon rides, a torchlight parade, and fireworks.
Telluride, Colorado
Telluride features the Christmas Ski Tree Lighting and Ullr's Ceremonial Ski Burn. They make the tree out of skis in honor of the Norwegian Patron Saint of Skiers, Ullr. Then, they burn the tree. They also welcome Santa with the Holiday Prelude and offer ice skating and train rides.
Lindsborg, Kansas
Lindsborg features a Swedish St. Lucia's Day Festival. The festival includes a procession of girls and boys to the Bethany Lutheran Church, the crowning of St. Lucia, dancing, and singing Swedish songs. Lindsborg also offers a snowflake parade, a Yuletide concert, and a visit with Mrs. Claus.
Branson, Missouri
Branson celebrates with its America's Christmas Tree City festival. Local businesses create over 700 unique trees. Some trees are part of multi-tree displays, and others are over 20 feet tall. Some participants decorate live, uncut trees. Other participants create trees from wine bottles, books, and tires.
The Chateau on the Lake presents a gingerbread village in its lobby. The three-foot-plus tall buildings represent two houses, four stores, and a church. The Chateau also displays a nativity scene identical to the Home Alone nativity scene. For even more fun, Santa slides in from above at the Chateau.
What could be more Christmasy than the World's Largest Toy Museum in Branson? The museum consists of multiple museums.
The World's Largest Toy Museum
The Stearnsy Bear Museum
The World of Checkers Museum
The National BB Gun Museum
The Harold B. Wright Museum of furniture and paintings.
The museum collection includes over one million rare, antique, and modern toys from the 1880s to the present. The toys cover all toy categories, including dolls, Barbie, Raggedy Ann, Betty Boop, superheroes, Star Wars, Star Trek, Disney, trains, Thomas the Tank Engine, cars, planes, military toys, GI Joe, western toys, Roy Rogers and Dale Evans, bicycles, and pedal cars.
Your family can also view multiple drive-through light displays and enjoy Old Time Christmas at Silver Dollar City amusement park.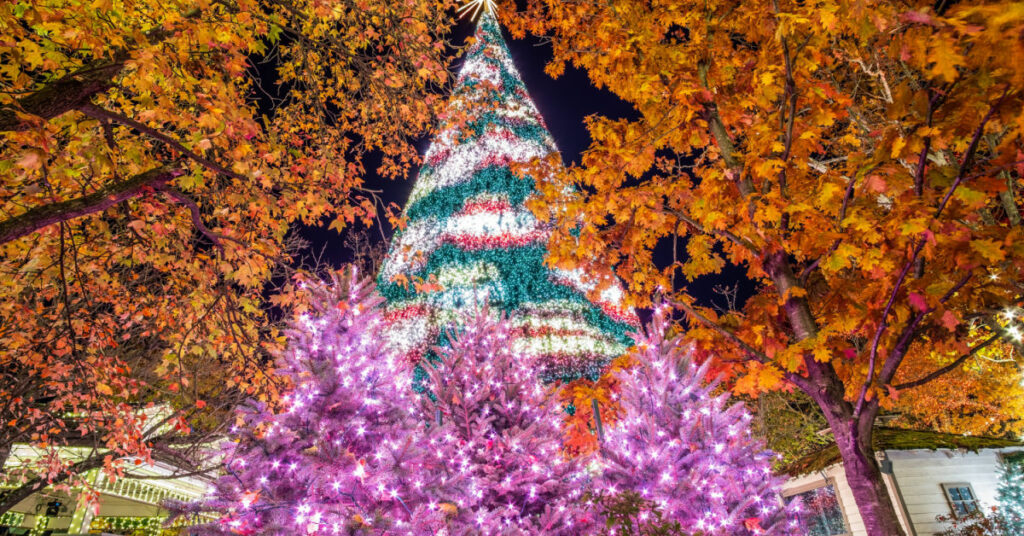 Kansas City, Missouri
Kansas City features the Holiday Reflections walk-thru holiday village at the Union Station's Grand Plaza. You can view decorated trees, mirrored ornaments, lights, forest creatures, Rudy's Wonderland, and animated window scenes.
You can view light displays at the Evergy Plaza Lights, Longview Lake Park's Christmas in the Park, Powell Gardens' Festival of Lights, and Swope Park's Winter Magic. For more fun, go ice skating at the Crown Center Ice Terrace.
Saint Charles, Missouri
Saint Charles features Santas from around the world. You will find a large kissing ball made of mistletoe, holly, and ribbon at the Kister Park gazebo. Kids can enjoy the gingerbread village and a visit with Santa.
Hemingford, Nebraska
Hemingford features the 114-plus wood panel Christmas Diorama depicting people, angels, and animals in the nativity story. The diorama stretches more than two and a half football fields. The spotlights make the display visible from your car, and music plays from a speaker system.
Omaha, Nebraska
Omaha presents the Poinsettia Show at Lauritzen Gardens. It features a 20-foot poinsettia Christmas tree. You will also view more poinsettias in various colors and lit and beribboned trees throughout the gardens. Kids will enjoy the model trains, crafts, decorating workshops, and a visit with Santa.
In the Old Market, you will find lighted displays, carolers, street performers, and carriage rides.
At the Durham Museum, you can enjoy Christmas at Union Station, featuring a 40-foot Christmas tree. The Holidays Cultural Trees Display offers trees decorated with ornaments representing different countries and cultures. The museum presents live performers on the weekends.
Garrison, North Dakota
Garrison offers the Dickens Village Festival with carriage rides, costumed characters, the Dickens quilt show, afternoon tea, and Fezziwig's feast. You can enjoy a ride on the Queen Elizabeth double-decker bus, the fruitcake toss, and the nightly lighted parade.
Claremore, Oklahoma
In mid-November, Claremore hosts the Dickens on the Boulevard festival. Merchants dress in Victorian outfits, and stores feature live window displays. An artisan village provides historical demonstrations of glass blowing, sculpting, and blacksmithing. You can enjoy a live nativity, live entertainment, a Victorian food court, pictures with Santa, and a nightly Victorian street dance.
Guthrie, Oklahoma
Guthrie hosts a Territorial Christmas Celebration with a live nativity, a candlelit trolley ride, carolers, an old-fashioned Christmas parade, a Territorial Homes Tour, Victorian-themed window displays, and a Victorian Walk Evening with costumed characters.
Oklahoma City, Oklahoma
Oklahoma City celebrates the holidays Downtown in December. Enjoy the free river and canal cruises, view the lights around the Bricktown Entertainment District, enjoy a carriage ride, and ice skate at the Devon Ice Rink.
Pierre, South Dakota
Pierre features Christmas at the Capitol. The official Christmas tree sits proudly in the rotunda. A set of hand-painted porcelain ornaments from the state china painters organization share the spotlight. An approximately 125-year-old nativity dominates the second floor. Businesses, cities, civic organizations, and nonprofit groups decorate the nearly 100 trees displayed in the rotunda and on the three floors of the Capitol. Carolers and musicians add to the festivities.
Sioux Falls, South Dakota
Falls Park on the Big Sioux River comes alive with lights strewn around the waterfalls and rock faces. It is a sight that is worth the trip.
Ready To Pack and Go, or Do You Want To Stay Home and Light Up?
Suppose you have found the perfect vacation spot for your western-style Christmas getaway, perfect! If not, can we help you brighten and lighten up your property for the Christmas season? We would love to do that for you. Contact A Brilliant Solution Holiday Lighting to learn more or continue to browse this site to see our lighting display services.