As a parent, it is natural to want to provide a safe and comfortable environment for your child. One thing that many parents look for when creating a comfortable sleeping space for their child are the best night lights for kids and babies.
Night lights can provide a comforting glow that can help children feel secure and ease any fears of the dark. However, choosing the best night light for your child can be overwhelming, with many options available.
Here we discuss some important factors when choosing the best night lights for kids and babies.

Should you give your kids a night light?
Giving your child a night light is personal and can depend on various factors. Some children may feel more comfortable sleeping with a night light, while others may not need one.
Night lights can be helpful for children who are afraid of the dark or have difficulty sleeping. They can also be helpful for parents who need to check on their child during the night without turning on a bright light that can disrupt sleep.
It is important to note that a night light may not be the solution if your child has trouble falling asleep or staying asleep. In this case, it may be best to consult with a pediatrician to determine the underlying cause of their sleep issues.

How bright should a kid's night light be?
The brightness of night light can significantly impact a child's sleep quality. A night light that is too bright can interfere with the child's natural sleep cycle and make it difficult for them to fall asleep. On the other hand, a night light that is too dim may not provide enough comfort for the child.
The ideal brightness for a night light is between 10-20 lumens or 4 to 7 watts which is what most night lights typically are. This level of brightness is enough to provide a comforting glow without interfering with the child's sleep. It is important to note that the brightness of the night light should be adjustable so that you can customize it based on your child's preferences.

What color night light is best for sleeping for kids?
The color of the night light can also impact a child's sleep quality. Blue light, emitted by many electronic devices, can disrupt the natural sleep cycle and make it difficult for children to fall asleep. Blue light can also interfere with the production of melatonin, a hormone that regulates sleep.
For this reason, it is best to choose a night light that emits warm, soft, and dim light in the amber, red, orange, or yellow spectrum. With their longer wavelengths, these colors have been found to promote relaxation and help regulate the natural sleep cycle without disrupting their circadian rhythm.

Night light features to consider
Design
Lightbulb Types
Color and Brightness
Sounds and Music
Alarms
Timers
Remote Control
Plugin vs. Battery Operated

Which night light is best for kids?
When it comes to choosing a night light for kids, there are several options available. Here are some of the most popular types of night lights for kids:
Plug-in Night Lights
These are small night lights that plug directly into the wall. They are typically easy to install and come in various designs and colors.
Portable Night Lights
These night lights are battery-operated and can be moved around as needed. They are perfect for children who need a night light when traveling or sleeping away from home.
Projector Night Lights
These night lights project images onto the ceiling or walls, creating a calming and soothing atmosphere for the child. They often feature different themes, such as stars or animals, and may include sounds or music.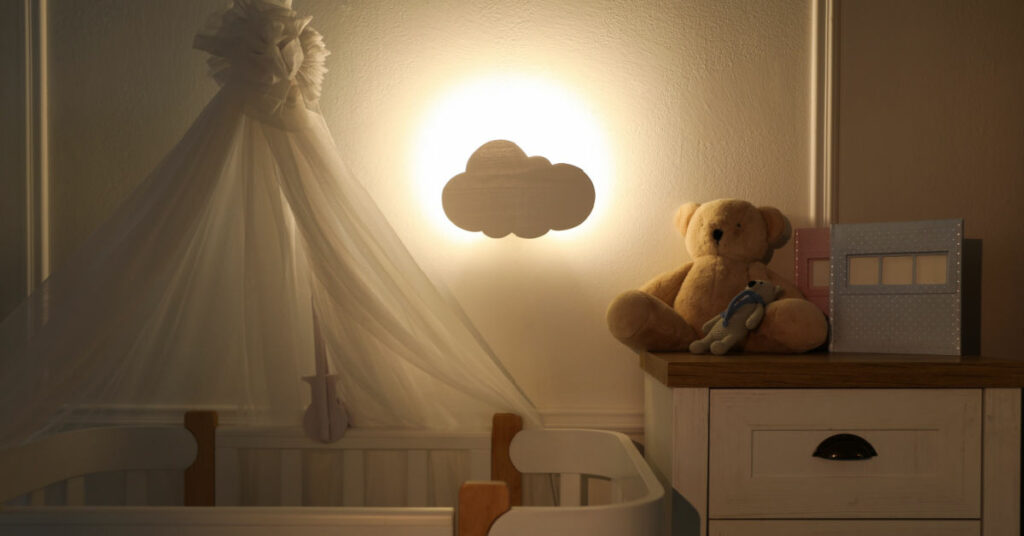 Character Night Lights
These night lights are designed to look like our kids' favorite characters, animals and others while providing a comforting glow for children.
Stuffed Soft and Cuddly Night Lights
These night lights are of our favorite animals and are soft and cuddly, basically a stuffed animal toy. They light up with a beautiful glow. With teddy bears, puppys, unicorns, sea animals and more, they are so fun for the little ones.

Choosing the Best Night Lights for Kids and Babies
Choosing the proper night light for your child can make a big difference in their sleep quality and overall comfort. With so many night light options, it's essential to consider all the features to determine which is best for you and your child or baby.
If you are looking to light up your home or business for the Christmas holidays, be sure to get in touch with A Brilliant Soltuion Holiday Lighting. You can rest assured your outdoor lighting will be nothing short of amazing.