Brighten Up and Lighten Up a Dark Gazebo
Gazebos are often located in tucked-away recesses in the landscaping to evoke a quiet or private ambiance. These locations may be in the corner areas of the property or pockets of the garden. Both of these areas have the potential of being in deep shade. Well-established vegetation and shadows from other structures are the two leading causes of deep shade. Unfortunately, these gray areas often produce a cold, uninviting dark side to the gazebo.
Trim Vegetation
There are a few different ways to brighten these dark areas. The first step to take is to trim back any vegetation that is encroaching upon the gazebo. If the gazebo is playing a dual function and acting also as a trellis, trim away unwanted portions of the vine. Next, decide if you need to thin out the vine a little. Balancing with how much to trim and what to trim is often tricky and will have to be determined by your preferences. You'll be amazed at what you can accomplish with just a little bit of plant maintenance.
Open Up To Allow The Light To Come In
Deep shady areas caused by large trees and structures will need different approaches. There are two different ways other than trimming vegetation that will bring light into dark gazebos.
Skylights
To open up and allow light add a skylight to the roof. This brings the benefits of diffused natural sunlight and still maintains shelter from the rain. Of course, not all gazebo roofs can be adapted for skylights. You may need to check with the gazebo manufacturer or a contractor.
If your pocketbook winces at the thought of a skylight, consider a porthole in the center of the roof. This is a window-like opening with no glass or covering. It will allow natural light to shine in; however, it will also allow the rain. Both of these approaches are best used if there are no overhead obstructions to the roof that would block the sunlight.
Install Lighting
Install Electricity
Add electricity. There are several advantages to adding this utility. First, you dictate how much light you want at any time, whether day or night. You may even dictate what kind of lighting. The choices range from LED to fiber optic and even outdoor ceiling fans. This approach is unique but also provides flexibility to adjust to your needs.
Types of Lighting That Needs Electricity
With so many types of lighting on the market, you are bound to find something that works well for you. Once you have added an electrical source, here are a few of your lighting options.
String lights are fun and loved by many, especially at party time. Simply. hang them on the roof, railing or the trees beyond.

Uplighting also considered accent lighting, can create a subtle and stunning atmosphere. They can be installed in the ground to shine upward toward the gazebo or up toward beautiful shrubs and trees surrounding the gazebo.

Floodlights will do the trick if you want to brighten up the entire space. They flood the space with light.

Spotlights are just what the term states, the light focuses on one spot.

Hanging lights come in wide variety of sizes, shapes, and styles. Indeed you can find one to match your gazebo decor.

Fan Lights

Chandeliers

Strip Lights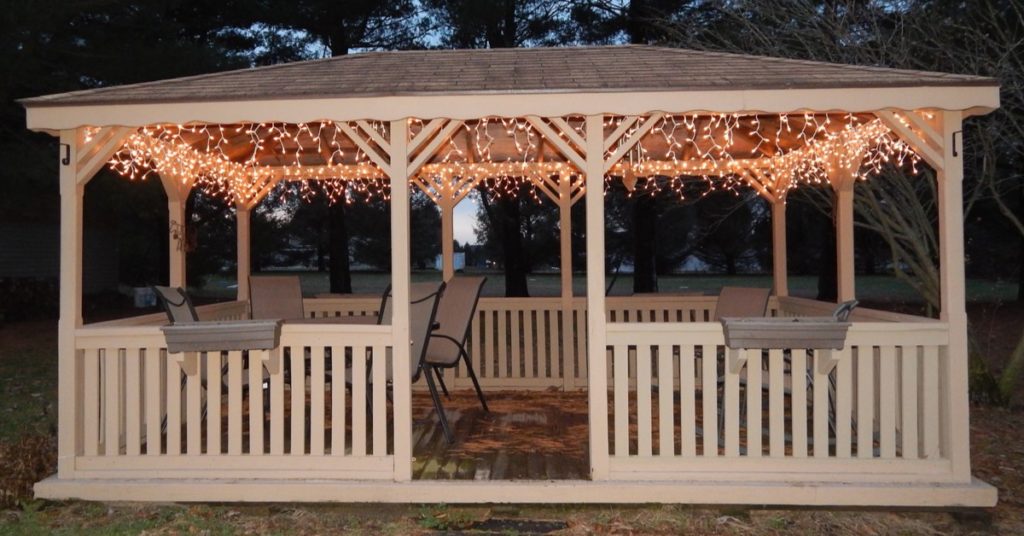 Lighting Without Electricity
No electricity hooked up, no worries. There are many options for this as well.
Solar lights

Lanterns

Candles

Tiki Torches
Now Start Lighting Up Your Gazebo
Existing gazebos don't have to have a dark side. They can still be inviting retreats tucked away in the garden. Letting a little bit of light in those dark, cold shady places will bring new life into your gazebo.
Do you want to lighten up your gazebo during the winter holiday season? A Brilliant Solution Christmas Lighting will be happy to offer you this service. Contact us to get a free quote.