5 Top Tips for an Eco-Friendly Christmas Everyone Will Enjoy
Eco-Friendly isn't the first thing that comes to mind when you think of Christmas. All that wasted wrapping paper and plastic junk are thrown in the bin before the lights are even off the tree, which is an environmentalist's worst nightmare. But you don't have to sacrifice the fun of Christmas to save to planet.
Check out these five eco-friendly Christmas tips to create a beautiful holiday that your family will love without hurting the environment.
1. Create Your Decorations
It's tempting to run to the store and pick out new Christmas decorations yearly. There's something so appealing about the sparkle and wonder of all the new lighted options appearing in the aisles come November. But many of those items are made of plastic and covered in glitter that has been shown to have damaging effects on the delicate eco-systems of our rivers and lakes.
Luckily, there are tons of eco-friendly options that you can make yourself. For example, popcorn strings are a classic Christmas craft that will give your tree a rustic, cozy appeal without adding to the landfill. Salt dough ornaments are another eco-friendly option that is especially popular with little ones itching to get into the Christmas spirit.
Getting creative will not only make your home come alive with the spirit of the holiday, but it will bring your family together to make memories that they will treasure for years to come.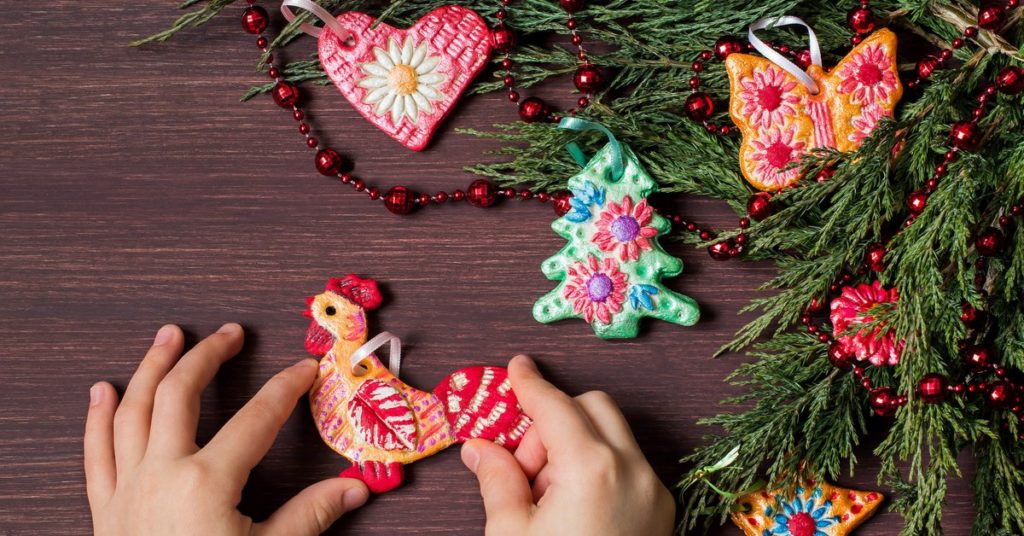 2. Buy a Real Christmas Tree
It's true! According to The Carbon Trust, a real Christmas tree has a smaller carbon foot than an artificial one (Carbon Trust Christmas Tree Disposal Advice, 2013). In addition, trees are a renewable resource if farmed responsibly. Not only are you keeping a plastic tree from eventually ending up in a landfill, but increased demand for real trees will spur growers to plant more trees, reducing the carbon footprint even further.
Don't forget to dispose of your Christmas tree after the holidays responsibly. The Carbon Trust recommends burning, chipping, or planting your tree rather than sending it to the landfill. For a more interesting alternative, track down your local goat farmer. They will often take discarded trees to feed the goats as a natural dewormer and as a special treat for the animals.
Still, feel guilty about chopping down a living tree? There are now potted trees available that can be kept year after year. Your potted tree can be pruned to keep it a manageable size and serve as a year-round, subtle reminder of the holidays.
3. Shop Local For Your Feast and Gifts
The big-name stores may have the market cornered on price but not the carbon footprint. You might have to shop around a bit more to find what you need, but the fewer miles your gifts and treats travel, the lower the environmental impact of your holiday.
Christmas markets are a great place to pick up unique and locally crafted presents without the risk of doubles. So go ahead and grab a mulled wine and a tasty treat while you support your local community by investing in your neighbors. No one said you couldn't have fun while saving the planet! Just remember to bring your reusable totes!
4. Recycle
If in good condition, there is nothing wrong with saving the wrapping paper that was just taken off of a present. And as for the tissue paper inside, most likely it's scrunched; therefore, you can recycle it and use it again in another gift you give later.
And of course, do not forget to recycle the cardboard gift boxes from Amazon and elsewhere, your bottles and more.
5. Light Up Both the Indoors and Outdoors with LED Lights
LED lights are highly recommended over traditional light bulbs. The US Department of Energy states that they use up to seventy-five percent less energy and last up to twenty-five times longer.
If you want to light up your exterior home or business, A Brilliant Solution has a solution for you. We are a Christmas Holiday Lighting company ready to serve you with the best and brightest LED exterior lighting displays. So, get in touch with us any time of the year so as to make sure we can get you on our busy schedule.
Eco-Friendly Christmas Ideas Conclusion
These five eco-friendly Christmas Ideas are not an exhaustive list but are an excellent place to start making your Christmas a little greener. Even making these small, simple changes can hugely impact our environment and ensure we have many more happy Christmases to come.