The Best Christmas Lights to Illuminate Your Home: Embracing the Brilliance of LED Technology
As the festive season approaches, the joy of Christmas lights illuminating neighborhoods and homes comes alive. LED, the best Christmas lights, epitomize brilliance and efficiency, transforming your dwelling into a winter wonderland among the myriad choices available.
The possibilities are endless with various outdoor LED Christmas lighting options, such as projection, mini, string, and icicles, along with a palette of captivating LED Christmas light bulb colors.
One company that takes this enchantment a step further is "A Brilliant Solution Holiday Lighting," known for creating breathtaking lighting displays for residential and commercial spaces and providing a seamless storage solution when the holiday season ends.

The Luminous Advantages of LED Christmas Lights
LED (Light Emitting Diode) Christmas lights have revolutionized the holiday lighting industry, and for good reason. They are celebrated for their impressive energy efficiency, durability, and versatility. Unlike traditional incandescent lights, LED lights consume significantly less energy, saving you money on your electricity bill while contributing to a more sustainable holiday celebration.
Additionally, LED lights emit less heat, reducing the risk of fire hazards and making them safer to use around your home.
Durability is another crucial advantage of LED lights. The diodes in LED lights are solid-state, meaning they are more resistant to breakage and can withstand various weather conditions, ensuring your holiday display remains intact and vibrant throughout the festive season. This longevity also extends to the overall lifespan of LED lights, which can last up to 25,000 hours compared to the shorter lifespan of incandescent bulbs.

A Dazzling Array of Outdoor LED Christmas Lighting
The variety of outdoor LED Christmas lighting options is remarkable when transforming your home into a fascinating spectacle. We list just a few ideas here.
Projection lights allow you to project intricate patterns, images, and animations onto your home's exterior, instantly turning it into a delightful canvas.
Mini lights are versatile and perfect for wrapping around trees, bushes, and outdoor structures, adding a warm and cozy ambiance.
String lights create a magical atmosphere when draping them along porch railings, eaves, and fences.
Icicle lights mimic the glistening beauty of real icicles, providing a whimsical touch to your roofline.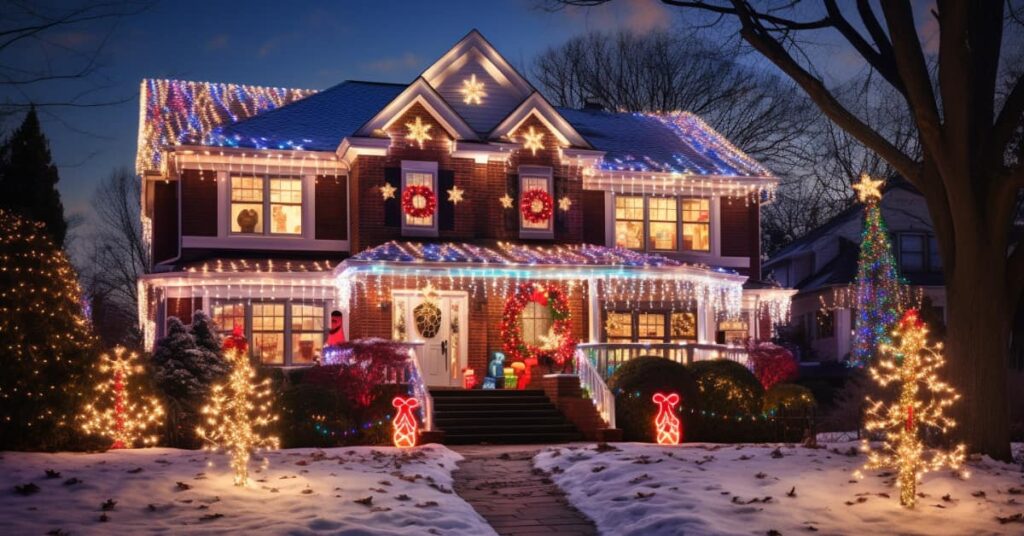 LED Christmas Light Bulb Colors
One of the joys of decorating with LED Christmas lights is the incredible array of colors available. From classic warm white and vibrant red to cool blue and multicolored strands, these lights customize your display to match your desired theme or mood.
Warm white lights exude a traditional and inviting glow, while multicolored lights bring a playful and festive spirit.
With LED technology, these colors remain vivid and accurate, dazzling onlookers and infusing your surroundings with holiday cheer.

A Brilliant Solution Holiday Lighting: Bringing Your Vision to Life
For those seeking to elevate their Christmas lighting experience to a whole new level, "A Brilliant Solution Holiday Lighting" offers a truly exceptional service. With a father and son duo team of expert lighting designers and technicians, they create awe-inspiring lighting displays that turn ordinary spaces into extraordinary showcases of holiday magic.
Whether it's a residential home or a commercial property, they make an outdoor lighting display suitable for each homeowner and commercial property owner and the unique architecture of their outdoor environment.

Storage of the Best Christmas Lights During The Off-Season
The daunting task of taking down and storing lights can be overwhelming as the holiday season draws to a close. "A Brilliant Solution Holiday Lighting" provides the perfect solution by offering storage services for your lights, ensuring they are carefully preserved for the next festive season. This not only saves you valuable storage space but also guarantees the longevity of your investment.

Contact For The Best Christmas Lights To Put On Your House
The charm of Christmas lights is an integral part of the holiday spirit, and LED technology has elevated this tradition to new heights. With their energy efficiency, durability, and versatility, LED Christmas lights have become the preferred choice for many.
The diverse range of outdoor LED Christmas lighting options and beautiful LED Christmas light bulb colors allow you to create a dazzling display that suits your outdoor style and vision.
For the best Christmas lights and an exceptional lighting experience that enchants residential and commercial spaces, "A Brilliant Solution Holiday Lighting" ranks above its competitors, providing expertly crafted displays and seamless storage solutions. Embrace the brilliance of LED, the best Christmas lights and illuminate your home with the season's magic.