How To Give Your Community the WOW Factor With Christmas Lighting
The holiday season is a time of joy, togetherness, and celebration. One of the most beloved traditions this time of year is decorating our homes and businesses with festive lights that brighten the community. There's something truly magical about the warm, twinkling lights that brighten up the long winter nights.
If you want to make a lasting impression and bring joy to your community, consider taking your Christmas lighting to the next level.
This article will explore three expert tips to help you wow your community with spectacular Christmas lighting.

Plan with Purpose
Having a clear plan in mind is essential before you begin stringing lights and hanging ornaments. Your Christmas lighting display should tell a story, evoke emotions, and create a sense of wonder for all who see it. To achieve this, you need to plan with purpose.
Start by assessing the layout of your property and identifying vital focal points. These include your front porch, trees, bushes, and architectural features like windows and eaves. Once you've determined the focal points, think about the theme you want to convey. Do you want to create a winter wonderland, a traditional holiday scene, or something unique?
For inspiration, you can turn to the internet, visit holiday light shows in your area, or consult with professional lighting designers. Remember, a well-thought-out plan is the foundation of a truly spectacular Christmas lighting display.

Invest in High-Quality Lights
The quality of your Christmas lights and decorations can make a huge difference in the overall impact of your display. Investing in high-quality lights will ensure your presentation looks stunning, safe and energy-efficient.
LED lights are popular for Christmas displays because they are energy-efficient, durable, and produce a vibrant glow. In addition to the excellent quality of LED lights, the cool operation reduces the fire risk compared to traditional lights.
LED lights come in various colors, shapes and sizes, enabling you to get creative with your design.
Mini-lights – Delicately twinkle like a sky full of stars, casting a cozy, nostalgic ambiance.
String lights – Weave a warm, enchanting glow
Net lights – Effortlessly drape over bushes and shrubs, transforming them into shimmering, illuminated hedges.
Icicle lights – Hang like glistening, frozen tears, adding a touch of winter magic.
C7 and C9 bulbs – Adorn homes with their classic, larger-than-life brilliance, reminiscent of a bygone era of holiday charm.

Create a Dynamic Display
A dynamic Christmas lighting display captivates viewers with its creativity and movement. To create a vibrant display, we show you a few ideas.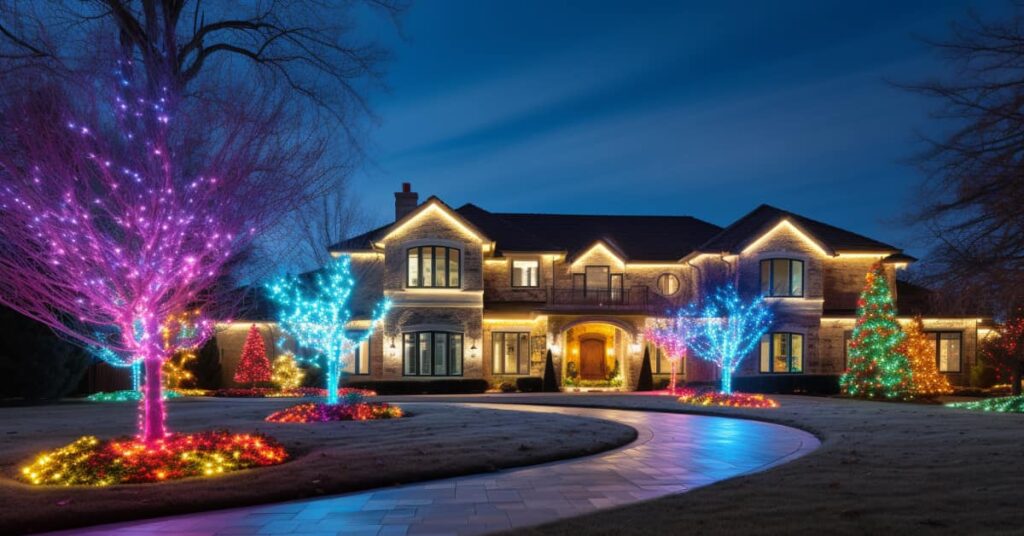 Animation
Using animation adds a captivating and whimsical dimension to your festive decor, delighting onlookers.
Music
Music infuses your festive setting with synchronized lights that dance to the rhythm of beloved holiday tunes, turning your home into a magical, musical wonderland.
Lighted Pathways
Lighting pathways enhance safety and guide visitors through a mesmerizing journey of twinkling lights, immersing them in the enchantment of the display.
Layered Lighting
Layered lighting achieves a captivating depth and dimension, blending warm white and colorful lights to craft a multi-faceted, festive ambiance that evokes the season's spirit.
Themed Sections
Themed sections transform your home into a holiday storybook, allowing visitors to journey through Santa's workshop, a nativity scene, and a winter wonderland.

Remember, Safety Must Always Come First!
Safety must always be a top priority when creating a dynamic display. Ensure that all electrical connections are secure, and use outdoor-rated extension cords and timers to control your lights.

Wow! The Community and Contact a Professional Christmas Lighting Company
Wowing your community with spectacular Christmas lighting requires careful planning, quality materials, and a dash of creativity. With the right approach, you can create a display that brings joy and wonder to all who see it.
So, plan with purpose, invest in quality lights and decorations, and create a dynamic display that lights up the holiday season for your entire community.
Make this year's holiday season unforgettable with a beautiful Christmas lighting display.
Contact A Brilliant Solution Holiday Lighting today for the most spectacular lighting display you could ever imagine.