2023 Christmas Lighting Trends for Outdoor Decor
Deck the halls and light up the night! Christmas is coming, and it's time to start planning your outdoor decor. This year, homeowners and commercial property owners are getting creative with new and nostalgic 2023 Christmas lighting trends to brighten their holiday properties.
From classic white lights to colorful candy canes, here are some of the most popular outdoor 2023 Christmas lighting trends.

Magical Viva Magenta
This holiday season, expect to see Christmas lights glowing in shades of magenta. As announced by Pantone, Viva Magenta is the 2023 Color of the Year, and this bold reddish-purple hue is already making its festive mark.
From tree trimmings to yard displays, rich magenta accents bring vivid vibrancy to holiday decor. This regal color adds a modern flair with shades of wine, Bordeaux, burgundy, and pinkish purples.
Strings of magenta-tinted bulbs cast a warm, energizing glow to outdoor spaces. Paired with gold and silver metallics, magenta lighting creates a luxurious, elegant ambiance.
So, deck your exterior with the jewel-toned magic of magenta this Christmas for a colorful and contemporary holiday celebration.

White Winter Wonderlights
Picking up popularity are white holiday lights. White represents purity and peace, perfect for the Christmas season. Going with all-white Christmas lighting provides a clean, uniform look.
For a pop of lively color and a contemporary twist, mix strings of crisp white lights with accents of magenta. Wrapping trees, bushes, railings, and rooflines with this duo of white and magenta creates a festive yet elegant glow. The contrast of clear white lights with vivid magenta bulbs will undoubtedly provide beauty and visual interest.

Full Spectrum Style
For fun, and festive spirit, multicolor is the way to go, and colorful lights are a hot trend for 2023 Christmas lighting as strings of rainbow lights return from the 90s.
Programmable light strands enable you to customize colorful lighting displays and make your property a genuine stand out in the community.
Create a stunning Christmas light show by wrapping trees, bushes, railings, and rooflines with wide net lights that change color to your favorite holiday tunes. Use multicolor spotlights to illuminate and accent architectural elements of your home. Top it off by lining walkways and driveways with multicolor ground stakes to welcome guests with dazzling color.

Nostalgic Noel
Vintage Charm is making a comeback in exterior Christmas lighting for 2023. Alongside the latest LED light technology, classic retro styles are becoming popular again. Strings of large C7 and C9 incandescent bulbs in festive colors adorning gutters and rooflines create nostalgia for Christmas past.
Even new LED icicle lights mimicking the chunky strands of yesteryear remind us of classic decor. For a heritage holiday style, try combining these retro exterior lighting elements that still shine bright to welcome the Christmas season 2023.

Ice Ice Baby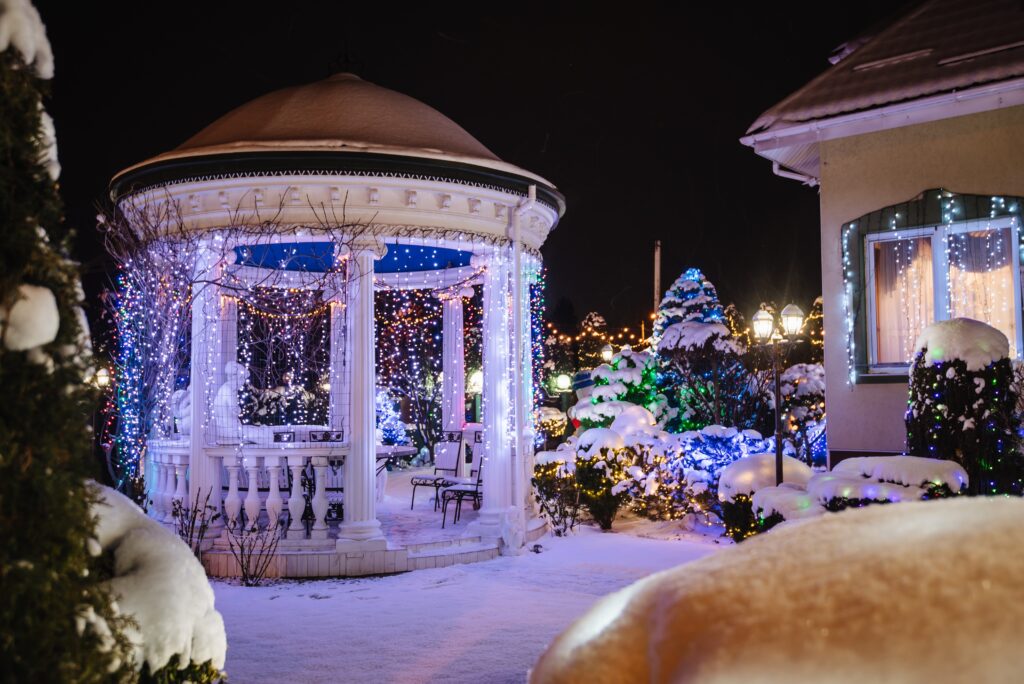 Cool tones are making a statement in exterior holiday decor this year. Shimmering silver, icy blue, and frosty white lights are the palette for an elegant, on-trend Christmas display in 2023. Wrap your trees, bushes, and home exterior with clear lights for a glittering effect.
Use blue wavelength LEDs on spotlights to cast a moonlit winter glow. Icicle lights in chrome or silver create a frosty look along rooflines and fences. Incorporate blue and white patterned laser projector lights to evoke snowflakes and frozen crystalline landscapes.
For an on-trend take on festive exterior lighting this season, make it an icy winter wonderland with blue and silver hues.
Capture the essence of winter with cool-toned lights. Icicle lights dangling from roofs, trees, and overhangs sparkle like ice cycles. Blue spotlights can create a frosty ambiance. Cover bushes and hedges with icicle netting for a magical wintery feel.
For a glistening effect, silver tinsel wrapped around railings and mailboxes completes the winter wonderland theme.

Candy Cane Lane
Red and white candy cane decor brings the 2023 Christmas lighting season's flavors to life.
To mimic giant candy canes, use strips of classic red and white incandescent mini-lights along roof peaks, dormers, and porch railings. Wrap trees and columns in swirling red and white LED net light stripes for a barber shop pole effect.
Line walkways with alternating red and white spotlights to guide guests with the holiday spirit. Illuminate shrubbery and bushes with alternating floods of red and white lights to make your landscape look peppermint-perfect.
Pair these vibrant candy cane colors with matching red and white ribbon and décor for an over-the-top peppermint parade theme. With this delectable Christmas lighting scheme for 2023, your home or commercial property will surely be the sweetest on the block!

Ring In The Season with 2023 Christmas Lighting Trends
The trends for 2023 showcase that exterior Christmas lighting displays are an impactful way to spread holiday cheer. From flashy multicolor to retro Charm, icy elegance to candy cane chic, lighting up your home or business this season will surely impress.
Contact A Brilliant Solution Holiday Lighting for stunning installation and innovative lighting designs to make your property stand out. With years of experience and over 600 5-star reviews, providing both residential and commercial customers with creative, customized lighting solutions, we are the experts to call. Our father-son duo owners, with a team of outdoor Christmas lighting professionals, will collaborate with you to understand your vision, stay on trend, and bring an eye-catching Christmas light display to life.
Give your home or business a festive glow that embodies the season's spirit by letting the holiday lighting specialists at A Brilliant Solution deck your halls with style with our customized 2023 Christmas lighting displays. Light up your season the bright way by partnering with the best in exterior lighting services.
Contact A Brilliant Solution Holiday Lighting to get on our 2023 Christmas lighting schedule.